UK air cargo follow-on case wins Litigation of the Year - Cartel Defence at GCR Awards 2018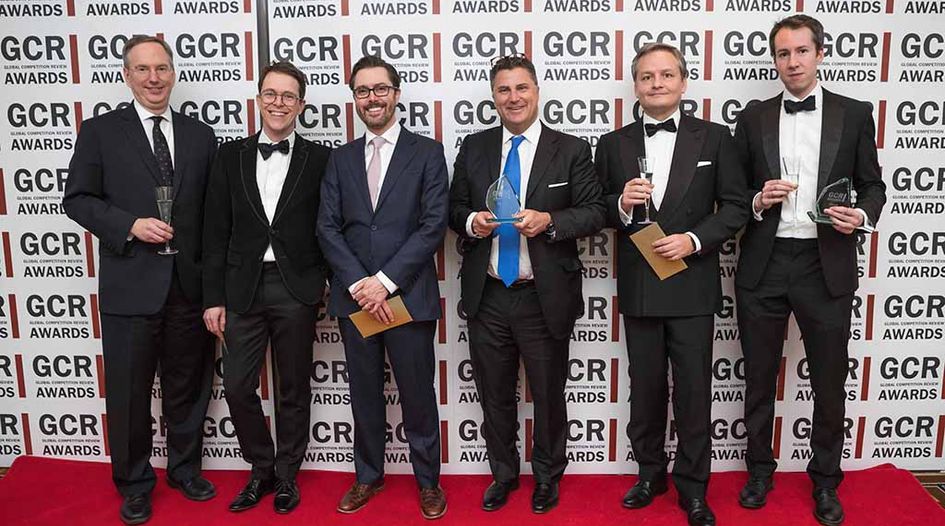 The UK air cargo follow-on case was awarded Litigation of the Year - Cartel Defence at the GCR Awards 2018, ahead of six other nominees. 
Optical Disk Drive, Lithium-Ion Batteries, Containerboard Products, Interest Rate Swaps, Nishikawa Rubber in Auto Parts MDL and Rail Freight Fuel Surcharge were also nominated for the award.
In October 2017, airlines defending UK litigation tied to their alleged participation in the air cargo cartel scored a resounding victory by striking out half of the value of the claim. Having previously struck out claims for unlawful means conspiracy and the claim by 65,000 Chinese companies, the airlines have reduced claims originally valued at over £5 billion (€5.69 billion) to £150 million (€170.61 million). The application concerned how article 101 of the Treaty on the Functioning of the European Union applied to air transport between EU and non-EU countries before 1 May 2004 and whether, absent any finding of infringement by the European Commission or a national authority, any claims for damages could be made relating to that period. High Court judge Mrs Justice Vivien Rose found that no such claims could be made, greatly reducing the lawsuit's temporal scope.
Counsel to British Airways
Slaughter and May
Partners Richard Swallow and Jonathan Clark in London, and associate Holly Ware in London
Monckton Chambers
Jon Turner QC in London
One Essex Court
Gideon Coe in London
Counsel to Air Canada
Hogan Lovells
Partners Nicholas Heaton and Ivan Shiu in London, and associates Oliver Humphrey and Will Moir in London
Counsel to Korean Air
Hogan Lovells
Partner Neil Mirchandani in London, counsel Paul Chaplin in London, and associates Greg Lewis and Susanne Buergi in London
Counsel to Singapore Airlines and Singapore Airlines Cargo
Latham & Watkins
Partner Oliver Browne in London, partner John Paul Poitras in Brussels, partner John Kallaugher (now retired) in London and Brussels, and associate Alexandra Luchian in London
Counsel to Deutsche Lufthansa, Lufthansa Cargo and Swiss International Airlines
WilmerHale
Partner Duncan Speller in London, special counsel Cormac O'Daly in London and Brussels, senior associate John McMillan in London and associate Stephanie Forrest in London
Counsel to Asiana Airlines
O'Melveny & Myers
Partner David Foster in London, counsel Margarita Nikki Michael in London and associate Lauren Sweet in London
Counsel to Cargolux Airlines International
Shearman & Sterling
Partners Jo Rickard and Susanna Charlwood in London, partner Geert Goeteyn in Brussels, and associates Tom Jones and Ruba Noorali in London
Counsel to Cathay Pacific Airways
Squire Patton Boggs
Partner Martin Rees in London and Brussels
Counsel to Japan Airlines
Steptoe & Johnson
Partner Angus Rodger in London and associate Michael Wharfe in London
Counsel to LAN Cargo and LATAM Airlines Group
Squire Patton Boggs
Partner Brian Harnett in Brussels, senior associate Stephen Cole in London and associate Samuel Hare in London
Counsel to Quantas Airways
Macfarlanes
Partner Cameron Firth in London and solicitor Matthew Redfern in London
Counsel to Scandinavian Airlines System Denmark-Norway-Sweden, SAS AB and SAS Cargo Group
Shepherd and Wedderburn
Partner Claire Stockford in London, and solicitors Douglass Campbell and Tom Stables in London
Counsel to Société Air France, KLM NV, Martinair Holland NV and Air France-KLM
Linklaters
Partner Tom Cassels in London, counsel Elizabeth Jordan in London, managing associate James Hennah in London, and associate Alex Hannington in London
Counsel to Thai Airways International Public Limited Company
Gowling WLG
Partner Bernardine Adkins in London and Brussels, associate Rory Jones in London and associate Anna Cundall in Birmingham
Counsel to Part 20 claimant airlines
Monckton Chambers
Daniel Beard QC and Thomas Sebastian in London