Zuckerberg saw Instagram as a competitive threat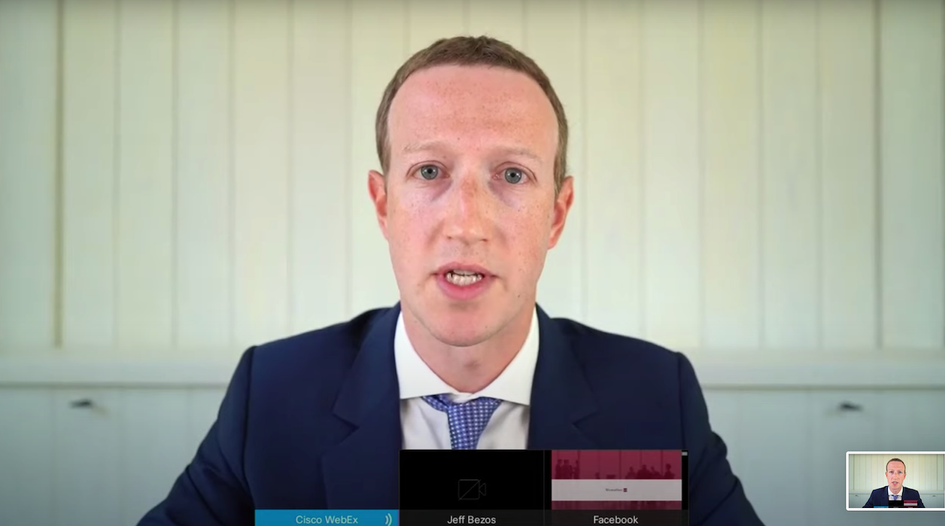 Facebook aimed to neutralise a potential competitor in its acquisition of Instagram, emails from chief executive Mark Zuckerberg suggest.
Internal Facebook documents published by the House of Representatives Judiciary Committee on Wednesday indicated that the social media platform sought to stamp out a rising threat in its $1 billion purchase of Instagram in 2012.
David Ebersman – Facebook's chief executive at the time – asked Zuckerberg in a February 2012 email what he was trying to accomplish as they mulled purchasing mobile photo-sharing startups like Instagram and Path.
Ebersman asked: "Neutralize a potential competitor?" or "Integrate their products with ours in order to improve our services?"
Zuckerberg replied that it was a combination of both while pushing back on Ebersman's concern that seeking to neutralise a rival would be a "bad reason", because another company would simply spring up in its place.
"Once someone wins at a specific mechanic, it's difficult for others to supplant them without doing something different," Zuckerberg wrote.
"It's possible someone beats Instagram by building something that is better to the point that they get network migration, but this is harder as long as Instagram keeps running as a product".
Buying competitors like Instagram and Path would allow Facebook to buy time and integrate their products before a new competitor could enter the fray, Zuckerberg explained in a February 2012 email.
"Within that time, if we incorporate the social mechanics they were using, those new products won't get much traction since we'll already have their mechanics deployed at scale," he said.
Less than an hour later, Zuckerberg replied again: "I didn't mean to imply that we'd be buying them to prevent them from competing with us in any way."
Facebook in April 2012 reached an agreement to acquire the rival photo-sharing application and its 30 million users. The Federal Trade Commission closed its four-month probe into the merger that August, with its commissioners unanimously voting to approve the tie-up.
Per typical agency protocol, the FTC did not elaborate on its reasons for approving the deal.
"Upon further review of this matter, it now appears that no further action is warranted by the commission at this time," it said in its closing letter to Facebook's counsel.
Seeking to better understand the merger activity of digital platforms, the FTC announced in February that it had initiated a study of all unreported transactions made by Facebook, Google, Amazon and Microsoft over the last decade. FTC chair Joseph Simons said it is "conceivable" that the agency would seek to unwind certain transactions.
The commission is also conducting a broader antitrust investigation into Facebook, although it remains unclear what the agency is specifically probing or how far along they may be.
Advocates of stronger antitrust enforcement routinely point to Facebook/Instagram as an example of an anticompetitive merger that the FTC let slip away.
During a House Judiciary Committee hearing yesterday, lawmakers pressed Zuckerberg for answers on the transaction.
"In your own words, you purchased Instagram to neutralise a competitive threat. If this was an illegal merger at the time of the transaction, why shouldn't Instagram now be broken off into a separate company?" committee chair Jerrold Nadler asked.
Zuckerberg – who appeared virtually alongside the heads of Amazon, Google and Apple – said that Instagram was among several mobile photo-sharing services that Facebook competed with at the time.
Zuckerberg said Facebook's purchase of Instagram had allowed the smaller rival to grow beyond what he and Instagram co-founder Kevin Systrom ever envisioned, while also making Facebook's products matter.
"I think with hindsight, it probably looks obvious that Instagram would have reached the scale that it has today, but at the time it was far from obvious," Zuckerberg said.
Instagram's user base has skyrocketed from 30 million to over one billion today, but Zuckerberg said in 2012 that the upstart did not need to be large to cause Facebook problems.
"Instagram can hurt us meaningfully without becoming a huge business though," Zuckerberg said in a 2012 email.
Zuckerberg also noted during the hearing on Wednesday that the FTC had all of these documents when deciding not to challenge the transaction.
"The failures of the FTC in 2012, of course, could not alleviate antitrust challenges that the chairman described," said David Cicilline, chair of the antitrust subcommittee.
The FTC declined to comment on Wednesday's hearing.
Documents
Facebook employees described Instagram as a particularly troublesome threat in mulling its social media competition.
"Instagram is eating our lunch. We should've owned this space but we're already losing quite badly," an unnamed Facebook employee said in an internal company chat from January 2012.
The employee described the now-defunct Google+ as a "shitty clone" while competing companies like Instagram and Pinterest "create new markets that we should've seen coming".
During an April 2012 town hall meeting, a Facebook employee asked Zuckerberg how worried they should be about Instagram.
"Yeah, they're doing well. We need to dig ourselves out of a hole," Zuckerberg responded.
"The bad news is they are growing very quickly. They have a lot of momentum and it's kinda going to be tough to dislodge them," he said, adding that they had a "hard battle ahead".
The "hard battle" turned out to be an acquisition.
After reaching an agreement with Instagram, Zuckerberg said to a colleague that he remembered an internal post describing how Instagram was Facebook's threat and not Google+.
"You were basically right. One thing about startups though is you can often acquire them. I think this is a good outcome for everyone," Zuckerberg said on 9 April 2012.
The same day, a Facebook engineer congratulated Zuckerberg on reaching a deal with Instagram.
"One reason people underestimate the importance of watching Google is that we can likely always just buy any competitive startups, but it'll be a while before we can buy Google," Zuckerberg said.
At the hearing, Zuckerberg said he did not remember that email specifically, but it sounded like a joke.
Copyright © Law Business ResearchCompany Number: 03281866 VAT: GB 160 7529 10