Overshadowed but not overlooked, Apple faces gatekeeper questions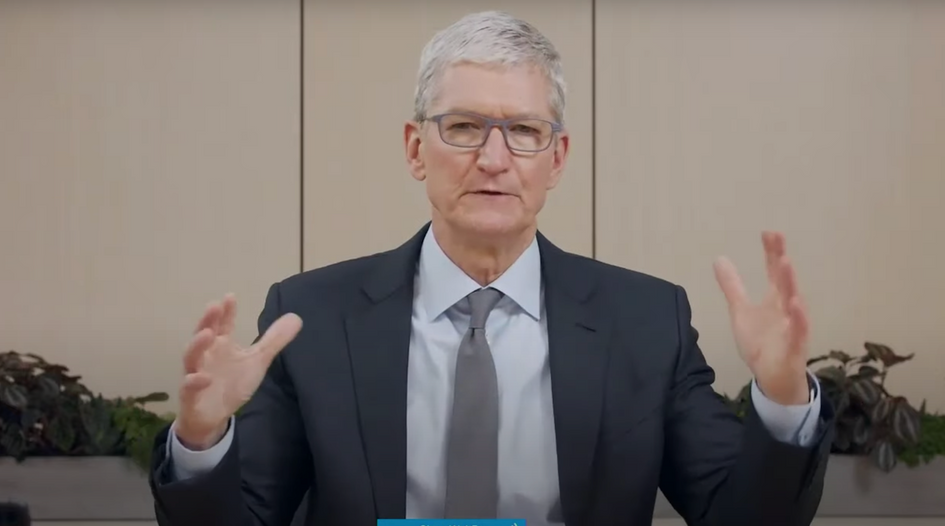 Apple may not have attracted as much scrutiny as Amazon, Facebook and Google during last week's Congressional hearing, but its chief executive was forced to defend the company against allegations it has abused its gatekeeper role to target rival app developers.
For much of Wednesday's five-hour-plus hearing before the House of Representatives antitrust committee, Apple's chief executive Tim Cook was a spectator. But that didn't stop several lawmakers probing Cook on the apparently opaque and arbitrary rules imposed on app developers allegedly designed to limit competitive threats and collect monopoly rents.
Lawmakers alleged that the company has abused its gatekeeper role for software on its devices by charging rival app developers up to 30% commission to be listed in its App Store.
"I pay around 25% of my income to Uncle Sam – to the government," said representative Jamie Raskin, paraphrasing an anonymous app developer. "Then I pay 30% of my income to Apple. So I get half of it and it's very hard to make ends meet."
Those complaints are already being investigated by the European Commission, which launched a pair of probes into Apple in June. The EU enforcer is evaluating whether Apple charges unfair commission rates and illegally restricts options for third parties to receive payments outside of iOS applications. It is also examining if Apple broke competition rules by limiting the ability of rivals to offer contactless payments through their own apps.
A class action of iPhone users has also accused the company of monopolising the market for the purchase of applications on its mobile devices. The Supreme Court ruled last year that the plaintiffs qualified as direct purchasers in their pursuit of damages that they claim were passed on by the 30% fee Apple charges on many of its sales.
The Department of Justice's antitrust division has been investigating Apple since mid-2019, but the iPhone-maker has seemingly avoided the same level of public scrutiny as the other three digital platforms being probed by US antitrust enforcers.
That disparity continued on Wednesday when Cook appeared alongside the heads of Amazon, Facebook and Google. Cook faced only 35 questions according to a tally from the New York Times, dwarfing the 59 to Amazon's Jeff Bezos, 62 to Facebook's Mark Zuckerberg and 61 to Google's Sundar Pichai.
"The 10,000 pound-gorilla"
Apple's chief executive said the App Store is "an economic miracle" that allows entrepreneurs to start a business spanning 175 countries from their basement.
But representative Jerrold Nadler cited allegations that Apple has attempted to extract commission from apps that previously did not have to pay anything. The chair of the House Judiciary Committee singled out the email app HEY, which claimed Apple gave it an ultimatum to either start paying commission or be kicked out of the App Store.
Cook said in response that Hey is currently available on the App Store and the app is free, so it does not have to pay commission on an actual purchase. A HEY subscription costs $99 per year.
He said the company had never raised its commission rate since opening the App Store in 2008.
But a 2011 email published by the House Judiciary Committee on Wednesday indicated that some Apple staffers had considered imposing a 40% commission on the first year of recurring subscriptions. One Apple employee said the company "may be leaving money on the table" if it only collects a 30% commission in a subscription's first year.
Raskin asked: "Does this model actually squeeze out the next generation of entrepreneurs? Is it an unjust arrangement because you're the 10,000 pound-gorilla and they're just trying to get started?
"No, I don't think so," Cook replied. "Keep in mind, we've gone from [offering] 500 apps to 1.7 million and so there's a lot of apps on the store and a lot of people are making a very good living."
Raskin said that Cook's reply "might just underscore the monopoly-nature" of Apple's business, as there are no real alternatives for these software developers.
Cook said that customers could buy from Samsung and that developers could write for Android, Windows, XBOX or PlayStation.
"It's so competitive, I would describe it as a street fight for market share in the smartphone business," he added.
Representative Joe Neguse challenged Cook on whether Apple had to play by the same rules it imposed on third-party developers. Neguse noted that Apple requires other developers to allow it permission to copy their apps, but the App Store otherwise prohibited this type of copying.
Another document published by the House Judiciary Committee on Wednesday encouraged developers to "come up with your own ideas" and warned against simply copying or making minor changes to an existing app because it "just isn't fair to your fellow developers".
A different document maintained that nothing would prohibit Apple from developing or marketing apps "that perform the same or similar functions" as the developer's app.
Referring to testimony from a previous committee hearing in Colorado in January, Neguse said that Tile, an item location-tracking app, claimed Apple had an unfair advantage over competitors because it had access to confidential information for all software on the App Store.
Cook said he was not familiar with the copycat policy Neguse had referenced and that Apple runs the App Store "to help developers not to hurt them".
The committee published emails from several app developers that challenged the rules of the App Store as arbitrary.
According to a 2019 analysis by the New York Times, Apple barred or restricted the sale of 11 of the 17 most downloaded screen time or parental control apps as it rolled out its own Screen Time tracking feature. Apple said it had removed several of the apps because their use of "mobile device management" technology posed privacy risks.
"While we recognise Apple's interest in a well-ordered ecosystem, Apple's recent actions suggest a perilous absence of collaboration and common sense," wrote a Verizon executive in a 2018 email to Apple uploaded by the committee.
Another app developer expressed dismay after spending more than $30,000 to redevelop an app to remove the mobile device management technology only for Apple to reverse course in June 2019.
"Talk about death to a small company like ours trying to make a difference in screen time health for kids," wrote one anonymous developer. "I feel like we were just spit out for playing by the rules."
Still catching up?
Some EU-based antitrust experts said Wednesday's hearing was another sign that the US enforcers still trail behind the European Commission.
Cristina Caffarra, head of Charles River Associates' EU competition practice, said the US needs to catch up with European enforcement, while noting that the big absentees during Wednesday's hearing were the Department of Justice and Federal Trade Commission.
"Congress is arguing for a more active approach and if the US agencies are not catching up, it has decided to legislate itself," said Caffarra, who has advised Amazon and Apple on EU competition matters and US states attorneys general investigating Google.
Although past remedies secured by the European Commission against the digital platforms have been fairly limited, the theories of harm pursued have been very good, even if they haven't been turned into effective solutions, she said.
There is going to be more legislation in Europe too and agencies will certainly have watched the hearing closely, even if the EU enforcer is unlikely to have learnt anything new, she said.
"But it is incredibly heartening that the US is now taking a serious stance," she added.
Nicolas Petit, the joint chair of competition law at the European University Institute, who routinely argues on behalf of the big platforms, compared the committee's hearing to a prosecution. He said the US lawmakers showed little interest in the answers provided, even if the chief executives also tried to dodge some questions.
The hearing is unlikely to have any impact on enforcement in the EU, although it could provide some momentum to the European Parliament and European Council when it comes to passing legislation related to the digital economy, he said.
"EU antitrust agencies will likely feel vindicated in their crusades against big tech firms and emboldened in the ongoing regulatory reform proposals," he said.
Brussels-based Norton Rose Fulbright partner Jay Modrall said he does not believe the Congressional hearing will have any sway over EU legislative proposals.
The EU has "already initiated granular consultations intended to lead to draft legislation", so it is very unlikely that any one of the chief executives said something that would change EU policy.
Copyright © Law Business ResearchCompany Number: 03281866 VAT: GB 160 7529 10