Ninth Circuit provides Qualcomm resounding reversal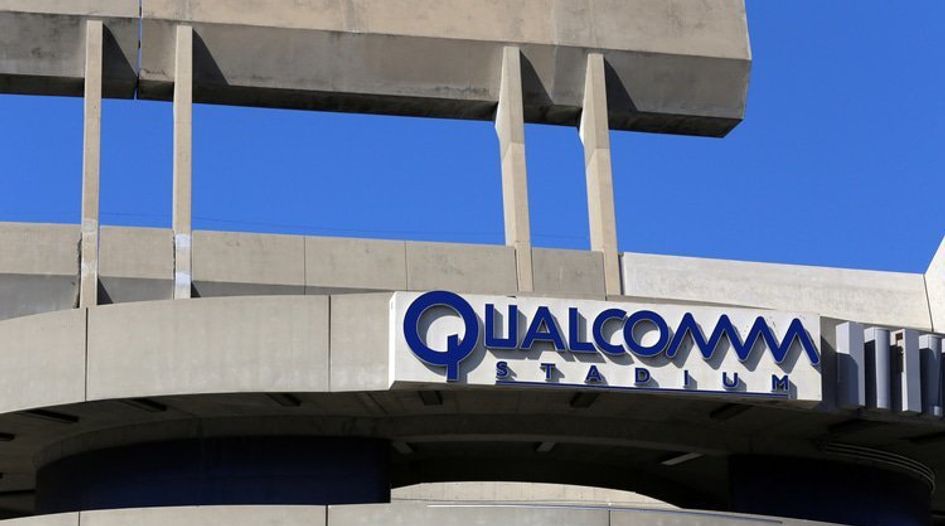 The US Court of Appeals for the Ninth Circuit has reversed a lower court's finding that Qualcomm's licensing practices violated federal antitrust law.
A three-judge panel on Monday unanimously ruled that the chipmaker had not – as alleged by the Federal Trade Commission – violated the Sherman Act by requiring cell phone manufacturers to license Qualcomm's standard-essential patents before purchasing its modem chips or refusing to license to rivals. 
The appellate court held that Qualcomm had no antitrust duty to license patents on fair, reasonable and non-discriminatory (FRAND) terms and the company's so-called "no license, no chips" policy was competitively neutral to chip suppliers. 
"Anticompetitive behavior is illegal under federal antitrust law. Hypercompetitive behavior is not," Judge Consuelo Callahan wrote on behalf of the panel.
Ian Conner, the head of the FTC's bureau of competition, said in a statement: "The court's ruling is disappointing and we will be considering our options."
A request for the full Ninth Circuit to consider the case or an appeal against the decision to the Supreme Court would require the approval of a majority of the agency's commissioners. 
With FTC chair Joseph Simons recused from the case, the commissioners appear to have been split two-to-two on whether to continue litigating the case, which was initiated in the final days of the Obama administration under different leadership.
Commissioners Rebecca Kelly Slaughter, Christine Wilson, Rohit Chopra and Noah Phillips either declined or did not respond to requests for comment. 
Judge Lucy Koh of the US District Court for the Northern District of California in January 2019 found Qualcomm had a responsibility to license its chips to rivals on FRAND terms under both Section 2 of the Sherman Act and agreements Qualcomm reached with two standard-setting organisations.
Judge Koh ruled that Qualcomm had abused its monopoly power for certain modem chips by engaging in licensing practices that amounted to an unreasonable restraint of trade and exclusionary conduct. 
The Department of Justice's antitrust division intervened on appeal, arguing that Judge Koh's ruling threatened competition for developing 5G technologies and national security, concerns the Ninth Circuit did not address. 
The Antitrust Division did not respond to a request for comment on the ruling.
Qualcomm general counsel Don Rosenberg said "the Court of Appeals' unanimous reversal, entirely vacating the District Court decision, validates our business model and patent licensing program and underscores the tremendous contributions that Qualcomm has made to the industry."
"Hypercompetition" 
Judge Callahan said the district court had correctly defined the relevant antitrust markets for modem chips but had looked beyond them to evaluate cellular services. 
"Thus, a substantial portion of the district court's ruling considered alleged economic harms to [original equipment manufacturers] – who are Qualcomm's customers, not its competitors – resulting in higher prices to consumers," Judge Callahan wrote.
"These harms, even if real, are not 'anticompetitive' in the antitrust sense – at least not directly – because they do not involve restraints on trade or exclusionary conduct in 'the area of effective competition,'" she added, citing the Supreme Court's 2018 American Express decision. 
The Ninth Circuit said that even if Qualcomm's licensing practices are interrelated to other markets, actual or alleged harms to customers and consumers in different markets stretch beyond the parameters of US antitrust law. 
Judge Koh ignored key differences between Qualcomm's refusal to license chips to certain rivals and those in the Supreme Court's 1985 Aspen Skiing ruling, the three-judge panel said. The FTC had not argued that Qualcomm had an antitrust duty to license to competitors. 
The district court erred in finding that Qualcomm had ended a "voluntary and profitable course of dealing" related to providing modem chips to its rivals, Judge Callahan said, adding that the FTC had not presented evidence that the company had offered such exhaustive licenses since acquiring monopoly power for these chips in 2006. 
Qualcomm did not sacrifice short-term profits by switching to a policy of only licensing to equipment manufacturers but instead picked a "far more lucrative" path, Judge Callahan said. 
Qualcomm also did not single out any particular chip suppliers, unlike in Aspen Skiing, Judge Callahan said; its policy towards those rivals could be described as "no license, no problem". 
The appellate court rejected the FTC's argument that a breach of commitments to license on FRAND terms could amount to a violation of Section 2 of the Sherman Act. 
"The FTC still does not satisfactorily explain how Qualcomm's alleged breach of this contractual commitment itself impairs the opportunities of rivals," Judge Callahan wrote. 
Judge Callahan said Qualcomm's "no license, no chip" policy is "chip supplier neutral". She said the policy allowed Qualcomm to collect the maximum value for its patents and prevent cell phone manufacturers from having to pay higher licensing royalties when buying from a rival. 
If the tied products had been reversed – "no chips, no license" – then rival chip suppliers might have antitrust claims centred around exclusionary conduct, because equipment manufacturers cannot sell their products using Qualcomm chips without a licensing deal, the appellate judge said. 
The Ninth Circuit said there was some merit in the district court's finding that purchasing agreements with Apple "were structured more like exclusive dealing contracts than volume discount contracts". 
There is no indication that Qualcomm faced significant competition from other rivals that would have prevented it from substantially foreclosing competition in this market for cellular chips, Judge Callahan said. 
In order to make a Section 2 claim, the FTC must show harm to competition itself and not just competitors, the Ninth Circuit said.
Because the commission failed to meet its burden in demonstrating anticompetitive harm, the Ninth Circuit said it did not need to address Qualcomm's procompetitive justifications or its licensing policies which appear "reasonable and consistent with current industry practice".  
"The company has asserted its economic muscle with vigor, imagination, devotion, and ingenuity," Judge Callahan said. 
"Another nail in the coffin for rule of reason liability"
Several members of the antitrust community were befuddled by the Ninth Circuit's assertion that harms to customers are "not anticompetitive in the antitrust sense". 
Douglas Melamed, a former assistant attorney general at the DOJ's antitrust division, called that finding "just plain idiotic".
"That logic would get rid of all vertical restraints. It would reject the Microsoft  case," he said. 
He questioned if antitrust law had become too complicated for judges to understand. 
Melamed, now a professor at Stanford Law School, said he agreed with the Ninth Circuit's reversal of findings that Qualcomm had an antitrust duty to deal and had engaged in exclusive dealing. 
But describing "no license, no chip" as "neutral" because the same royalty rates were changed is not accurate as a matter of economics, Melamed said. 
Another Stanford Law School professor, Mark Lemley, also disagreed with the Ninth Circuit's contention that harm to Qualcomm's customers was irrelevant to US antitrust law. 
"That is exactly the opposite of antitrust law," he said, adding that he did not understand the panel's rationale that harm to these customers is irrelevant because it occurred in a different market. 
If the FTC could not win this case, it is hard to imagine that a plaintiff can get effective antitrust enforcement in FRAND-related cases, Lemley said. 
Geoffrey Manne, the president of the International Center for Law & Economics, said the Ninth Circuit could have written its decision more clearly, but the idea that antitrust law exists to protect competitors and not consumers is so ridiculous that others should not assume that is what the court meant. 
Manne said his biggest takeaway is that the appellate court's ruling reigns in the expansive definition of a duty to deal with rivals, which was adopted by Judge Koh. The decision will make it easier for companies to engage in vertical forms of contracting moving forward, he said. Manne's organisation receives financial support from Qualcomm. 
Jorge Contreras, a law professor at the University of Utah, said it was unfortunate that the court did not address that Qualcomm's commitment to two cellular standard-setting organisations requires it to license its technology to rival chipmakers.
He said it was wise that the Ninth Circuit largely ignored the national security arguments raised by the DOJ and other government agencies. 
"The national security arguments, which sought to justify Qualcomm's actions on the basis of US national defence and energy security, were highly questionable and would have presented a strong case for certiorari to the Supreme Court if the Ninth Circuit had adopted them," Contreras said.
Morgan Reed, president of ACT | The App Association, said in a statement that the Ninth Circuit's ruling misunderstands the role that standard-setting plays and risks the future of competition and innovation in the US. 
"The panel's decision here will lead to a chilling of competition and innovation by enabling abusive licensing behavior behind a shield of 'hypercompetition' where large standard essential patent portfolio holders will use licensing power to select winners and losers in nearly every market from connected cars to healthcare," Reed said. 
University of Southern California Law School professor Erik Hovenkamp disagreed with the Ninth Circuit's finding that Qualcomm could not substantially foreclose competition for production of modem chips because it did not face significant rivals. 
Hovenkamp said this ignored the FTC's argument that companies like Intel had failed to emerge as potential competitors due to Qualcomm's alleged exclusive dealing. 
The decision fits into a progression of courts moving in favour of antitrust defendants, he said. 
"It's another nail in the coffin for rule of reason liability," Hovenkamp said.
The FTC has 45 days to decide whether to request a rehearing before the entire Ninth Circuit. 
Counsel to Qualcomm
Cravath Swaine & Moore
Gary Bornstein, Antony Ryan, Yonatan Even and Brent Byars in New York
Keker Van Nest & Peters
Robert Van Nest, Eugene Paige, Cody Harris and Justina Sessions in San Francisco
Morgan Lewis & Bockius
Willard Tom in Washington, DC; Richard Taffet in New York; Geoffrey Holtz in San Francisco
Goldstein & Russell
Thomas Goldstein, Kevin Russell and Eric Citron in Bethesda, Maryland
Counsel to the Federal Trade Commission
Bureau of Competition
Geoffrey Green, Mark Woodward, Daniel Matheson, J Alexander Ansaldo, Dana Abrahamsen, Joseph Baker, Wesley Carson, Kent Cox, Rajesh James, Lin Kahn, Philip Kehl and Jennifer Milici in Washington, DC
Counsel to the United States of America
Department of Justice's antitrust division
Michael Murray, William Rinner, Daniel Haar, Jennifer Dixton, Patrick Kuhlmann and Jeffrey Negrette in Washington, DC
Copyright © Law Business ResearchCompany Number: 03281866 VAT: GB 160 7529 10