Lawmakers confront Google's dual role as player and referee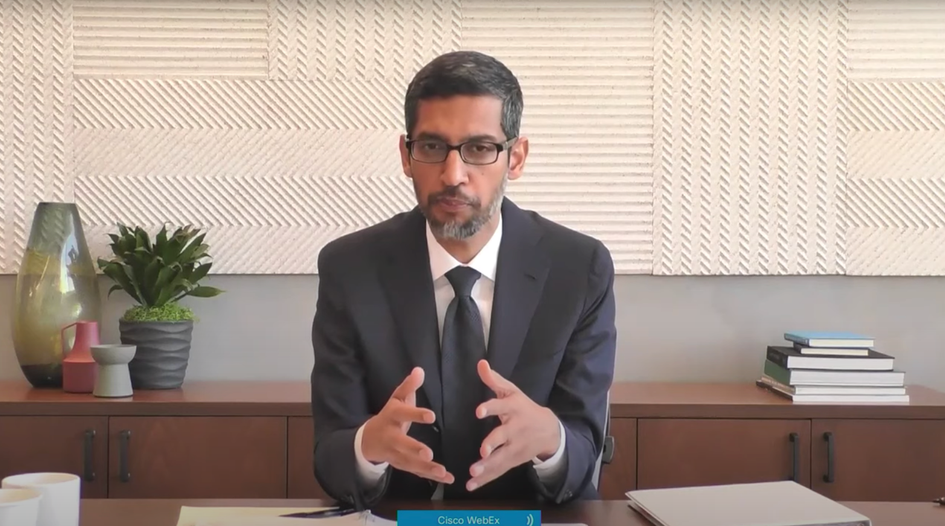 Democratic and Republican members of the House Judiciary Committee took turns challenging Google's dual role as both a dominant advertising player and referee during an antitrust-focused hearing on Wednesday.
Google chief executive Sundar Pichai faced repeated accusations that there is an inherent conflict of interest in the company's control of both the supply and demand sides of its digital advertising platform – DoubleClick Ad Exchange – which operates as a real-time marketplace that allows publishers to sell advertising space to advertising agencies.
Representative Pramila Jayapal – a former Wall Street financial analyst – compared Google's dual role as the arbiter of and a competitor on its Ad Exchange to a stockbroker using a client's information on its own behalf.
"There are reasons that insider trading is regulated and this Ad Exchange is essentially the same thing," the Democrat legislator said to Pichai, who appeared remotely alongside the heads of Amazon, Facebook and Apple.
"Does Google have a similar obligation to serve its clients – the businesses that are selling and buying ad space?" she asked.
Google's "overview" of its Ad Exchange compares the marketplace to the New York Stock Exchange.
Pichai responded that publishers receive, on average, 69% of the advertising revenue – a total of $14 billion.
The Department of Justice's antitrust division and attorneys general from 50 US states and territories are probing Google's business practices. While it is not entirely clear what these enforcers are specifically investigating, media reports suggest that digital advertising is an area of serious focus.
The European Commission has investigated and fined Google three times, most recently claiming the company had abused its dominant position in online advertising.
The commission fined Google $1.7 billion last year, finding that it had illegally required third-party websites to display advertisements generated by Google's Adsense software over those belonging to rivals. Google's appeal against that decision is pending.
In a letter sent to the House of Representatives antitrust committee earlier this month, EU competition chief Margrethe Vestager described the dual role played by some digital platforms as an issue of increasing relevance.
"The question has to be asked whether the power to be the referee and exclude or diminish downstream players is beneficial for competition and ultimately society," she wrote.
Privacy as a "cudgel"
Google's Ad Exchange remained a focus of lawmakers throughout the hearing.
Representative Kelly Armstrong asked Pichai about Google's decision not to allow third parties to buy YouTube ads via Ad Exchange beginning in 2015. Armstrong said it was his understanding that Google made this change due to privacy concerns that third-party digital advertisers would develop user profiles.
"It seems that this policy, regardless of the privacy concerns, reduced competition for demand-side platforms on YouTube," Armstrong said.
The Republican lawmaker also accused Google's apparent use of privacy concerns to limit the interoperability of third-party analytics on YouTube. "The excuse is privacy but the data doesn't disappear. You just have greater control over it. Right?"
Pichai said that Google is always looking to improve the YouTube experience and that changes it has made have allowed users to skip advertisements they do not find to be relevant. He said limiting third parties to Google's own ad tools and Google properties was consistent with the policies of other services such as Amazon, Facebook, Snapchat and Pinterest.
Google does monetise its ads on YouTube, but it also allows users to pay for a subscription service to avoid them, Pichai said.
"We've been very focused on making YouTube a great platform for creators," Pichai said.
The chief executive said the platform had allowed for small and medium-sized businesses to grow.
Armstrong said he was concerned that Google was using "privacy" as "a cudgel to beat down the competition".
"When we're talking about privacy, it's a great word that people care about, but not when it's utilised to control more of the marketplace and squeeze out smaller competitors," Armstrong said.
DoubleClick "bait-and-switch"
Representative Val Demings questioned Pichai on Google's 2007 purchase of online advertising server DoubleClick, which the Federal Trade Commission cleared without conditions.
Demings said a Google representative had committed during Senate testimony at the time not to combine DoubleClick's browsing records with the personal information Google collects from its other services, such as Gmail or Google maps.
Citing an email from a DoubleClick executive, Demings said Google's founders were unwavering on its privacy policy of not associating users with cross-site cookies. The Democratic lawmaker said Google went ahead and merged this information in 2016, "effectively destroying anonymity on the internet".
"Isn't it true that what changed between 2007 and 2016 is that Google gained enormous market power? So while Google had to care about user privacy in 2007, it no longer had to in 2016?" Demings asked.
Pichai said the company makes it very easy for users to turn off data tracking that will result in ad personalisation and has reminded users that they can make this change.
"I am concerned that Google's bait-and-switch with DoubleClick is part of a broader pattern where Google buys up companies for the purposes of surveilling Americans, and because of Google's dominance users have no choice but to surrender," Demings replied.
"Walled Garden"
David Cicilline, the chair of the antitrust subcommittee, said "documents show that Google evolved from a turnstile to the rest of the web to a walled garden that increasingly keeps users within its sites."
In one of the documents published by the House Judiciary Committee, Google representatives said that they felt the growth of web sites like MySpace and YouTube "puts the search business in jeopardy."
To secure the leadership of its search engine, a report from multiple engineers said the company should strive to be a search medium for video, social networks and entertainment. The engineers advocated turning the company's user base – the largest in the world – "into an unfair advantage by building out technology that improves linearly with user base size".
The report said Google drives "too much traffic to competitors Monster and HotJobs", which are two job search engines.
Cicilline accused Google of stealing restaurant searches from Yelp to support its own local search business and prioritising its own content on its search engine – pointing to a study published by The Markup earlier this week.
Pichai said Google tries to understand industry trends like other businesses do. Google then uses that information to improve its own products to give customers what they want, the chief executive said.
Copyright © Law Business ResearchCompany Number: 03281866 VAT: GB 160 7529 10