House antitrust committee turns findings on tech CEOs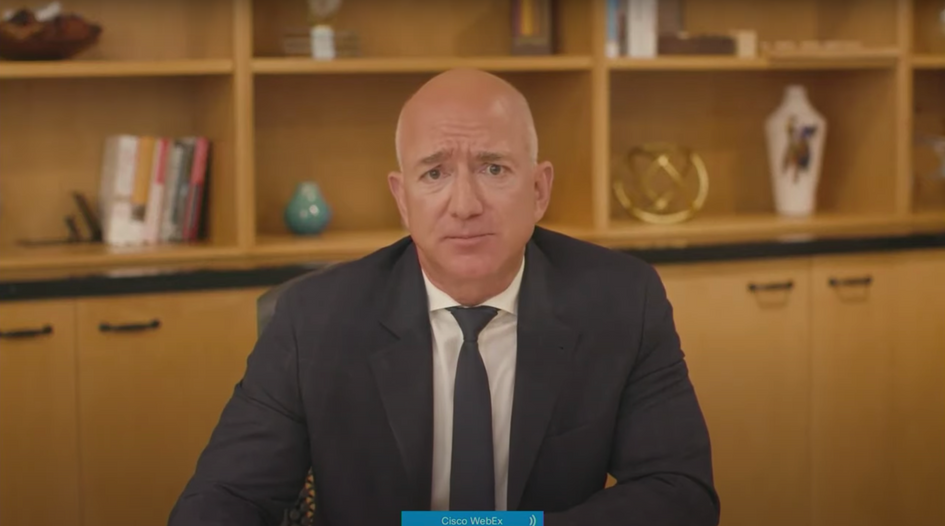 Members of the House of Representatives Judiciary Committee on Wednesday weaponised a year's worth of evidence against the heads of Amazon, Facebook, Google and Apple during the final hearing of its digital markets probe.
Although not always grounded in the same merits, both Democratic and Republican lawmakers on the committee challenged the companies' market power during an oversight hearing that lasted more than five hours and at times resembled a courtroom cross-examination.
The chief executives – Jeff Bezos of Amazon, Mark Zuckerberg of Facebook, Sundar Pichai of Google and Tim Cook of Apple – appeared on a projected screen before a room full of masked committee members.
The executives rattled off a list of benefits they said their companies provided to Americans: jobs, global leadership, growth for small business, greater access to information and a plethora of innovative choices.
But most of the hearing, which culminated a 13-month fact-finding mission evaluating the state of competition in digital markets and the effectiveness of US antitrust law and enforcers, belonged to the legislators.
"As gatekeepers to the digital economy, these platforms enjoy the power to pick winners and losers, shake down small businesses, and enrich themselves while choking off competitors," antitrust committee chair David Cicilline said in his opening remarks.
"Our founders would not bow before a king. Nor should we bow before the emperors of the online economy," he said.
Cicilline said each company had used their "bottleneck" over a particular platform to expand and maintain their dominant positions.
Amazon
Last July, counsel to Amazon denied during a hearing before the committee that the online retailer uses data from third-party sellers on its platform to compete with its own Amazon-branded products.
Representative Pramila Jayapal yesterday asked Bezos if Amazon ever uses third-party seller data to make business decisions and if managers have access to that information.
"We have a policy against using seller-specific data to aid our private label business, but I can't guarantee you that that policy has never been violated," Bezos said.
Bezos said his company has "certain safeguards" to ensure compliance with the policy, although he did not describe in further detail what those entailed.
"If we found that someone violated it, we would take action against them," he said.
Jayapal said former Amazon employees had informed the committee that they had access to third-party seller data, and she questioned whether the safeguards Bezos described were working.
"The whole goal of this committee's work is to make sure there are more Amazons, that there are more Apples, that there are more companies that get to innovate and small businesses get to thrive," said Jayapal, who represents the district where Amazon is headquartered in Seattle.
Representative Mary Scanlon questioned Bezos on his company's competition with Quidsi, which Amazon purchased for $545 million in 2010.
Scanlon accused Amazon of engaging in predatory pricing to destroy Quidsi's Diapers.com business. She pointed to internal documents describing Diapers.com as Amazon's "biggest competitor" in the diaper industry. "They keep the pressure on pricing on us," one 2009 email from an executive read.
"As I've mentioned to each of you, I think we need to match pricing on these guys no matter what the cost," the same executive said.
Another executive responded by suggesting that Amazon change its algorithm to set prices below Diapers.com whenever it was the lowest-matched competitor.
Another email showed that Diapers.com had caused Amazon to implement a "plan to win" centred around offering free Amazon Prime to new mothers and discounts on diapers up to 30%. An executive suggested that this plan could undercut Quidsi's diapers business, thus slowing its move toward a new soap-focused business.
Scanlon said the documents suggested that Amazon was willing to suffer more than $200 million in diaper profit losses. She asked Bezos how much the retailer was willing to lose to undermine Diapers.com.
Bezos said he could not recall given how long ago this was, but added that products like diapers help attract new customers.
Scanlon noted that Amazon then purchased Diapers.com and stopped offering diaper discounts such as Amazon Mom.
"How would [mom] benefit when the prices were driven up by the fact that you've eliminated your main competitor?" Scanlon asked.
'Conservatives are consumers too'
While certain Democratic lawmakers grilled the tech executives on concerns regarding nascent acquisitions and potentially anticompetitive conduct, the Republican agenda was clear – to lambast Google and Facebook for using their market dominance to apparently silence the conservative voice.
Multiple conservative representatives used yesterday's hearing as a platform to voice their outrage over Google's and Facebook's alleged political agendas to promote liberal views, while censoring conservative speech.
Jim Sensenbrenner, the ranking Republican on the committee, said he has concerns that the alleged market dominance of companies like Facebook and Google's YouTube in the digital space is "ripe for abuse", particularly when it comes to free speech.
Reports that dissenting views – often conservative – are targeted or censored is seriously troubling, Sensenbrenner said. "Conservatives are consumers too, and they need the protection of the antitrust laws," he added.
"The power to influence debate carries with it remarkable responsibilities," representative Sensenbrenner said. "Let the facts be our guide here – your companies are large; that's not a problem. Your companies are successful; that's not a problem either. But I want to leave here today with a more complete picture of how your individual companies use your size, success and power, and what it means to the American consumer."
Sensenbrenner – who is not seeking re-election this November after 40 years representing Wisconsin's fifth congressional district – said he did not see any need to change US antitrust law.
Republican representative Greg Steube from Florida also voiced concern over the power that Google has amassed in the big tech sector and its ability to silence and sway political opinions.
Steube called on Google's chief executive Sundar Pichai to explain why conservative campaign emails sent to Google mail accounts get sent to spam folders. He noted that several of his supporters who have received campaign support emails for years have reported that emails from his office are popping up in their spam folder.
Steube accused Google of having a political bias, claiming he has not heard any complaints by Democrats that their supporters are having similar issues and asked why this is only happening to Republicans.
Pichai said that there could be multiple issues at play. Based on Gmail user preference, the company has created a sorting algorithm that separates personal e-mails and those sent by companies or organisations, he explained, adding that Google serves its users without partisan favouritism.
"There is nothing in the algorithm that has to do with political ideology," Pichai said, adding that Google does receive complaints from liberal organisations that claim their sites can't be found on the company's search engine.
Representative Val Demings, a Democrat from Florida, chimed in and said that she has also heard similar concerns from her supporters and that the matter is not isolated to the Republican party.
The hearing concluded on Wednesday.
Copyright © Law Business ResearchCompany Number: 03281866 VAT: GB 160 7529 10