India
Amitabh Kumar leads the competition team at J SAGAR ASSOCIATES. As director general of the Competition Commission between 2004 and 2009, Kumar was responsible for drafting the authority's regulations, as well as its early advocacy work. He joined the firm in 2010 and now works alongside two other partners, including Farhad Sorabjee, and a roster of associates. The team has a broad range of ongoing merger control work: they acted for Advent International when it acquired Crompton Greaves, Marriott in its acquisition of Starwood Hotels & Resorts, and Symphony Teleca when the company was picked up by Harman International Industries, among a lengthy list of other deals. On the behavioural side, the firm convinced the commission to revisit its assessment of the relevant market in an abuse of dominance probe, which resulted in charges dropped against its client ACI Inc. They successfully represented the Federation of Airlines in relation to cartel allegations, and acted for complainants in relation to the enforcer's separate investigations into VeriFone India and Monsanto. They also act for two members of an alleged cartel in an ongoing antitrust investigation and a leniency applicant in a separate probe. In addition, the team provides competition advice to a number of high-profile clients, including Volvo, Canon, Hewlett Packard, Ford, Hyundai and Michelin.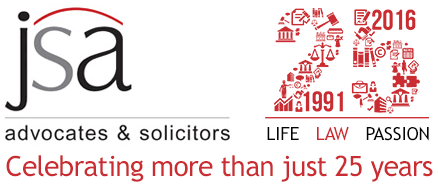 J SAGAR ASSOCIATES
J. Sagar Associates (JSA) is a leading national law firm in India comprising of over 300 professionals, with offices in Ahmedabad, Bengaluru, Chennai, Gurgaon, Hyderabad, Mumbai and New Delhi. For over two decades, we have provided legal advice and services to international & domestic clients.
Our well reputed Competition Law Team has been regularly advising clients, across various sectors, on transactions and investigations involving abuse of dominance, anti-competitive agreements and merger filings arising from global / Indian mergers and acquisitions, since the formative phase of the Indian Competition Law and Policy. We play a vital role in delivering competition risk management training to help identify problems, and in inculcating the culture of compliance within an organization. The team has achieved great results in complex and high-profile competition investigations, merger reviews, and enforcement cases. We guide clients across the spectrum, from industry incumbents to new market challengers, and routinely work with international law firms in handling the Indian leg of global transactions.
We argue our own matters before Director General, Competition Commission of India (CCI), Competition Appellate Tribunal, High Court and Supreme Court of India. In cartel investigations, we have acted for complainants as well as members of alleged cartels and leniency applicants. Similarly, in cases involving abuse of dominance, we have acted for both, the complainants as well as the opposite parties.
With a team that includes a veteran of the CCI, we offer clients an insider's perspective, bolstered by our close partnerships with renowned economists and consultants. Our lawyers are known for their forward-looking business-centric and innovative approach when representing clients, going further to achieve successful outcomes that are in the client's commercial interest. They regularly interact with the CCI and make significant contributions in relation to formulation of several regulations.
In recognition of our laudable competition practice, JSA has received wide national and international acclaim within the legal sphere, some of which include the 'Highly Recommended in Competition/ Antitrust' by Chambers and Partners and 'Competition Law Firm of the Year, 2012' at the 1st Indian Legal Era Excellence Awards.
Visit www.jsalaw.com for more information on our Competition law practice.
Amitabh Kumar, Partner
+91 11 4937 0648
amitabh.kumar@jsalaw.com
Farhad Sorabjee, Partner
+91 22 4341 8502
farhad@jsalaw.com
Reeti Choudhary, Partner
+91 22 4341 8552
reeti@jsalaw.com
Vaibhav Choukse, Principal Associate
+91 11 4311 0699
vaibhav.choukse@jsalaw.com