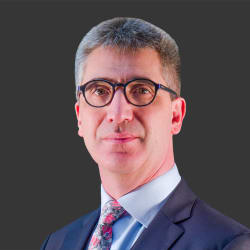 Geert Goeteyn
Geert Goeteyn is a partner in the Antitrust practice of Shearman & Sterling Brussels and London.
He focuses on all areas of EU competition, merger and regulatory law. He is qualified to practice law in Belgium as well as in England and Wales, and holds an LLM in European Law. Geert has represented a large number of clients in a wide variety of industries including agricultural seeds, automotive, aviation, biotechnology, consumer goods, oil, paper, telecommunications and high-tech. He advises clients on complex antitrust issues including merger remedy cases, cartel related issues (both in the context of European Commission investigations and private damages actions) and abuse of dominance cases. Geert is frequently quoted in the press, regularly contributes to books and journals and is the editor of the aviation chapter of the Butterworths Competition Law Encyclopaedia. He has also won a number of awards on the Cargolux case :
• Global Competition Review: "Litigation of the Year – Cartel Defense" for the representation of Cargolux in the Air Cargo UK follow-on litigation (2018)
• Global Competition Review: "Matter of the Year" and The American Lawyer: "Global Legal Award for Global Dispute of the Year: International Litigation"; both awards are for the successful appeal by Cargolux (and a number of other carriers) against the Commission's decision in the Air Cargo cartel, resulting in its annulment (2016).