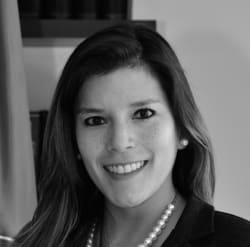 Paola Andrea Carrillo Zuluaga
Paola holds undergraduate degrees in Law and Journalism from Javeriana University, a postgraduate degree in Commercial Law from Los Andes University, and a master's degree in Private Law from the same University. She has also done diploma courses on Legal English, Public Procurement and Procedural Law.
She joined the Superintendence of Industry and Commerce (SIC) in 2012. In this Entity, she first worked as a case handler in the Deputy Superintendence for the Protection of the Competition, and later as advisor to the Deputy Superintendent of this division. Currently, she serves as International Affairs Coordinator, where she leads a team responsible for centralizing and handling SIC's international cooperation activities on law fields such as competition protection, consumer protection, personal data protection, legal metrology and industrial property rights.
Paola has given lectures on Competition Law in training courses offered by SIC's Office of Consumer Services and Business Support (OSCAE, for its acronym in Spanish), and she has also supported the preparation of competition classes given by SIC's officials in different universities of the country.
Prior to joining the SIC, Paola served as Ad-Honorem Legal Practitioner in the Legal Department of the Javeriana University, and as Legal Journalist in Ámbito Jurídico (Colombian newspaper specialized in law).