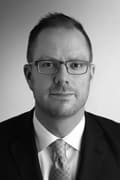 Grant LoPatriello
Grant LoPatriello is an associate in Fasken Martineau's business law group. Grant's practice has a particular emphasis on anti-trust/competition and foreign investment law, where he routinely advises on merger clearance, criminal matters, and other restrictive trade practices under Canada's Competition Act.
Having served as an investigator in the Competition Bureau's cartels and deceptive marketing practices branch for a number of years, Grant has extensive experience applying the civil and criminal provisions of the Competition Act in many complex markets. While at the Competition Bureau, Grant contributed to the development of several important guidance documents and had led a significant review of the Competition Act's whistle-blower provisions. In addition to lecturing on business and consumer protection law – including all areas of competition – Grant has been published in the field. Before pursuing a career in law, Grant held senior policy and regulatory positions with the Department of Foreign Affairs and Interna-tional Trade.
As a diplomat, he has worked extensively with international organisations in The Hague, Geneva and New York, advancing Canada's non-proliferation and disarmament agenda. While working with the G8 Global Partnership programme, Grant was Canada's permanent representative to the European Bank's Nuclear Security Fund. Prior to joining the Department of Foreign Affairs, Grant served as an officer in Her Majesty's Canadian Forces. Grant is an associate with the London Court of International Arbitration and the Chartered Institute of Arbitrators, and is a member of the International, Canadian and Ontario Bar Associations.