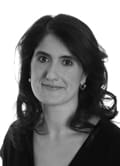 Marta Giner Asins
Marta Giner is a partner of the antitrust and competition department in Paris. Her practice focuses on competition and European law.
Marta has a solid experience in antitrust litigation before both the French and European authorities and jurisdictions. She has been involved in several cases of abuse of dominant position, for example in the press distribution and pharmaceutical sectors and has alternatively acted for incumbent operators and new entrants.
She has assisted clients during visits carried out by competition authorities, as well as in the proceedings contesting these visits, and was involved in a litigation which led to the full cancellation of the seizures carried out by French authorities in a client's premises. She frequently advises them with the identification of competition risks and the implementation of adequate compliance programmes.
Marta has been involved in mergers before both the French and European authorities, as well as in multi-jurisdictional merger filings, such as in African and Asian countries. Together with Mélanie Thill-Tayara she has assisted Sofiprotéol in the merger control procedure in Morocco regarding the acquisition of Lesieur Cristal, a leader in the edible oil sector in the country, which was cleared in Phase 2, and in other transactions. She has also advised other clients in different African countries, such as Cameroon and Ivory Coast.
Marta has recently been developing activities in state aid issues.
In addition, she has experience in the field of selective distribution and was actively involved in the process for the review of the vertical restraints block exemption regulations.