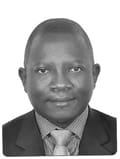 Thula Kaira
Chief Executive Officer
Thula Kaira is the current and founding CEO of the Competition Authority in Botswana. Prior to taking up this position in 2011, he was CEO of the Competition and Consumer Protection Commission in Zambia (formerly the Zambia Competition Commission), where he worked for 13 years. He spent about a year as an international intern at the Australian Competition and Consumer Commission.
Since Botswana did not have a competition authority, Thula set out to establish the institution from scratch by developing the first organisational structure, job descriptions, recruitment strategy and process, budget, and development of operational guidelines and regulations for the Competition Act. Following staff recruitment, Thula conducted intensive in-house training of staff before exposing them to the external training opportunities.
With the Authority firmly established, Thula's primary focus is now to provide leadership in the enforcement of and advocacy for the Competition Act. He has prioritised proactive advocacy aimed at influencing the attitudes regarding legal and policy initiatives that affect the competition process in Botswana. Thula is also the secretary to the Competition Commission, which is the governing board of the Authority, where he is responsible for the efficient implementation of corporate policies, practices and procedures which ensure cost effective delivery of the Authority's services in meeting its mandate, including best-practice governance codes to guide the institutional arrangement.
Thula holds qualifications in law, marketing, management and economics for competition law and has had competition consultancy engagements with UNCTAD, SADC and CUTS.