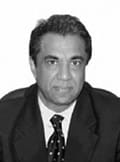 Kusha Haraksingh
Dr Kusha Haraksingh was appointed in 2008 as the first chairman of the Caribbean Community (CARICOM) Competition Commission (CCC).
He is an economist, historian and lawyer, and was appointed foundation Dean of the Faculty of Law, UWI, St Augustine, Trinidad and Tobago, in 2012.
He is a graduate of the prestigious School of Oriental and African Studies, University of London, and is a Barrister of Lincoln's Inn. He was a postdoctoral fellow at the University of Michigan, Ann Arbor; a visiting scholar at the University of Warwick; and a Senior Fulbright Fellow at Harvard University.
In the area of competition law and policy, Dr Haraksingh served as a co-chair at the 11th meeting of the Organisation for Economic Co-operation and Development (OECD) Global Forum on Competition held in Paris, France in February 2012. Under his chairmanship, the Forum paid particular attention to the challenges faced by small developing countries arising from rapid fluctuations in the international prices of commodities.
Dr Haraksingh was engaged in the UNCTAD Research Partnership Platform at the 12th UNCTAD Session of the Intergovernmental Group of Experts on Competition Law and Policy in July 2012, This initiative brings together researchers from research institutions, universities, competition authorities and civil society, to undertake joint research and other activities, and to exchange ideas on the issues and challenges in the area of competition and consumer protection faced particularly by developing countries. Within this programme, Dr Haraksingh is a co-designer of a special project on competitive neutrality.