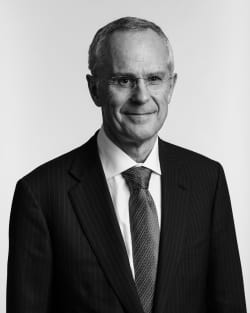 Rod Sims
Rod Sims was appointed chair of the Australian Competition and Consumer Commission (ACCC) in August 2011 for a five-year term. He was reappointed for another three years in August 2016, and for a further three years from August 2019.
Rod has extensive business and public sector experience. Immediately prior to his appointment to the ACCC, he was the chairman of the Independent Pricing and Regulatory Tribunal of New South Wales, commissioner on the National Competition Council, chairman of InfraCo Asia, director of Ingeus Limited and a member of the Research and Policy Council of the Committee for Economic Development of Australia. Rod was also a director of Port Jackson's Partners Limited, where he advised the CEOs and boards of some of Australia's top 50 companies on commercial corporate strategy over many years. Rod relinquished all of these roles on becoming chair of the ACCC.
Rod is also a past chairman of the NSW Rail Infrastructure Corporation and the State Rail Authority, and has been a director of a number of private sector companies. During the late 1980s and early 1990s, he worked as the deputy secretary in the Commonwealth Department of the Prime Minister and Cabinet responsible for economic, infra­structure and social policy and the Cabinet Office. He also worked as deputy secretary in the Department of Transport and Communications.
Rod Sims holds a first-class honours degree in commerce from the University of Melbourne and a Master of Economics from the Australian National University.