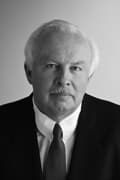 Douglas C New
Douglas New, former chair of the firm's antitrust/competition and marketing law group and a partner of the firm, carries out an active busi-ness law practice with special focus on advising clients, both domestic and foreign, with respect to pre-merger regulatory approvals under Canadian legislation, including the Investment Canada Act, the Competition Act and the Canada Transportation Act. Douglas also regularly advises manufacturers, importers, distributors and retailers with respect to competition and marketing and advertising law issues in Canada.
Douglas served with Canada's Foreign Investment Review Agency (now the Investment Review Division of the Ministry of Innovation, Science and Economic Development) as special adviser (legal) to the deputy commissioner. He has published articles on Canada's foreign investment and competition laws for numerous Canadian and international publications. He has participated as a contributing author to publications such as Foreign Investment Review Law in Canada (Butterworths) and Doing Business in Canada (Matthew Bender) and is a for-mer editor of Review of International Business Law (Carswell). Douglas regularly serves as chair and lecturer on panels in Canada and abroad, speaking on Canadian foreign investment and competition law issues.
Douglas is called to the degree of barrister-at-law by the Law Society of Upper Canada and is enrolled as a solicitor of the Supreme Court of Ontario. He has been ranked with respect to his competition law and foreign investment law expertise in Chambers Global: The World's Leading Lawyers for Business.
During his tenure with Fasken Martineau, he has served on numerous firm committees including as chair of the business development committee. He currently serves as co-chair of the firm's diversity and inclusiveness committee and is an adjunct professor at Ryerson Univer-sity.