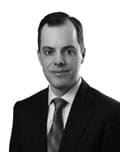 Kevin Ackhurst
Kevin Ackhurst is a partner in the business law group at Norton Rose Fulbright Canada, and advises Canadian and international clients on all aspects of Canada's competition and foreign investment laws. His practice involves analysing the competitive implications of mergers and acquisitions, joint ventures and strategic alliances, providing advice concerning civil and criminal competition law matters, developing competition law compliance programmes, and advising on the review of foreign investments under the net benefit and national security provisions of the Investment Canada Act.
Mr Ackhurst has advised clients in a wide range of industries, including the aerospace, agri-business, automotive, consumer products, energy, film, video, publishing and recorded music, financial services, mining, oil and gas, pharmaceuticals, specialty chemicals, telecommunications and transportation sectors.
Between 2002 and 2003, Mr Ackhurst was seconded to the International Affairs Division of the Canadian Competition Bureau. One of his primary responsibilities was to provide support to the chair of the steering group of the International Competition Network (ICN). His other responsibilities included preparing ministerial briefing notes, undertaking international benchmarking studies, and participating in interdepartmental meetings on the interplay between trade and competition law.
Mr Ackhurst contributes competition and regulatory-related items to the firm's M&A blog, DealLawWire.com, and on competition and foreign investment matters on Twitter @CanadaAntitrust.