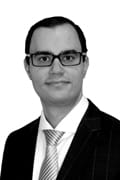 Bruno Peixoto
Bruno L Peixoto is a partner and chair of the antitrust and competition practice area at Araújo e Policastro Advogados. He has distinguished experience in complex and multifaceted antitrust litigation in Brazil. In addition to representing leading companies in investigations concerning cartelisation and unilateral conducts before CADE, he has played a major role in shaping the application and interpretation of Brazilian antitrust law in state and federal courts. Representing corporate clients, he has successfully conducted the first private antitrust actions for damages in Brazil, including the first collective actions. In 2012, he obtained the first decision awarding cartel damages in the country. Bruno has also obtained cease-and-desist orders and injunctive relief for leading companies in administrative proceedings and civil actions involving coordinated and unilateral conducts.
Bruno earned his Master of Laws degree from the University of Chicago and was an attorney at the Antitrust Division of the Ministry of Justice. A lecturer in international seminars and meetings, Bruno has published academic studies in American law journals and served as vice chair of the International Antitrust Law Committee of the American Bar Association, Section of International Law.
Bruno also regularly represents clients in merger control proceedings before CADE and advises on complex cross-border transactions, assessing both competitive effects and merger-specific efficiencies. He has worked in transactions in a variety of industries, from mining and steel to retail and technology. He has also coordinated multijurisdictional filings in South and Central America.