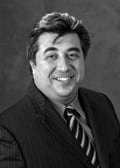 Bilal Sayyed
Bilal Sayyed is a counsel in O'Melveny's Washington, DC office. Bilal represents clients before the Antitrust Division and FTC in merger and non-merger investigations. He also has an active Hart-Scott-Rodino counselling practice.
Since joining O'Melveny in 2005, Bilal has advised clients in a number of significant merger and non-merger investigations, including Dynegy Corporation in the sale of its midstream NGL business to Targa Resources; Rea Magnet Wire in its acquisition of Phelps Dodge's North American magnet wire business; a major integrated petroleum company in the FTC's 2005 to 2006 gasoline price investigation; a third party in a challenge to a significant horizontal merger; and a major retail drug store chain in the sale of its US business to a significant competitor.
Before joining O'Melveny, Bilal served as attorney adviser on competition matters to then FTC chairman and current O'Melveny antitrust and competition practice co-chair, Timothy Muris. Bilal advised the chairman on significant merger matters including investigations involving the casino, chemical, cruise-line, defence, health-care, natural gas, petroleum, pharmaceutical, mining, retail, supermarket and transportation industries. Bilal also advised on major non-merger matters – physician price-fixing investigations, professional association cases and inquiries into improper use of the standard-setting process, and seminal complaints and opinions – In the Matter of Polygram Holding Inc (Three Tenors), In the Matter of Union Oil Company of California and FTC v Rambus. Bilal also coordinated all petroleum and electricity matters while in the chairman's office.
While at the FTC, Bilal was also an attorney adviser in the Office of Policy Planning.