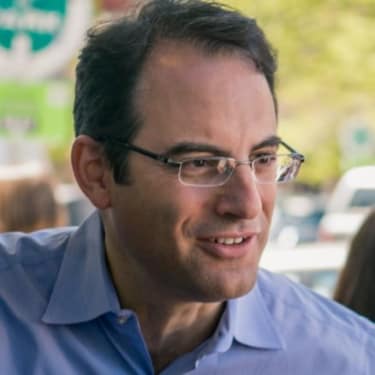 Credit: Phil Weiser
Philip Weiser first came to the Department of Justice's antitrust division during the Clinton Administration, as a senior counsel focused on telecommunications. After serving as lead agency reviewer of the Federal Trade Commission for the Obama transition team, he returned in 2009, under Christine Varney, as deputy assistant attorney general for international, policy and appellate matters. Now back at University of Colorado Law School, Weiser talked about how his antitrust resume applies to seeking the Democratic nomination for Colorado attorney general in 2018.
Why are you running for Attorney General of Colorado right now, and how has your antitrust background played a role in this decision?

Since graduating law school, my career was focused on public service, and during this whole time I knew that as an intellectual matter that if I wanted to serve that I might have to run myself. That was always an abstraction, [spring] wasn't the first time I've thought about running. But it's the first time that it became a reality for me because had there been a Hillary Clinton administration, there might have been opportunities in Washington that I might have gone back to for a third time. I served under Obama, I served under Bill Clinton and had things worked out, I might have served under Hillary Clinton.
But I'm running because of desire to do public service, and right now we're in a very scary time for our nation where we need people to step up to serve, particularly at the state level, and so I'm answering that call to service.
To answer your question about antitrust, I have been an expert in antitrust in my service to both the Clinton Administration and the Obama Administration and have focused on antitrust both times; and so for me it's an interesting opportunity as a state attorney general to be a leader in antitrust law, because one of the potential challenges we might see under a Trump administration is a lack of antitrust enforcement, meaning state attorneys general will have to pick up the slack. And so part of the draw to this position is to help fight for robust antitrust enforcement. And then a third point I would make for why I'm running is our economy is not working for a lot of people in this country, and there are a lot of pieces of that puzzle; and as a state attorney general and as a state leader it would be critical for me to work hard on how to help our economy work for everyone - all consumers and workers - and antitrust is a piece of that.
The rhetoric from the Trump Administration in regards to environmental protections - the EPA [Environmental Protection Agency] cutting down rules regarding methane emission - and the FCC [Federal Communications Commission] taking a step back on network neutrality concern me. There's an overall laissez-faire approach that the administration is taking that worries me.
What are the most pressing issues regarding competition law, antitrust and monopolies in Colorado at the moment?
I don't think Colorado is that different from the overall nation. We are nervous about the ability of entrepreneurs to enter businesses and whether they face barriers to entry - so take healthcare for example. If you have major hospitals who have exclusive contracts, that can be a real impediment towards upstart health plans. As we see throughout the nation, the lack of competition in health care is a real concern, and something I would want to do all I could - to enable and encourage competition in healthcare. And that includes looking at any number of arrangements that protect incumbents from new entry.
On the reactive or defensive side, we need to be really careful and really nervous about mergers. If we look at airline mergers, for example, it's fair to say that that industry has become somewhat concentrated and in a year when gas prices go down, consumers don't see the benefit of that. It's been all captured as profits. In a competitive economy, we don't tend to see that behaviour, and I'm concerned about the level of concentration in the airline industry and would be terrified for future mergers.
As senior advisor for technology and innovation at the White House's National Economic Council did you deal with any antitrust-related challenges and problems?
The interesting dynamic when you're working at the White House is that you oversee large swaths of the economy and a number of agencies. So antitrust at the FTC, the antitrust division at the DOJ, the FCC, Commerce Department, Energy, were all part of the portfolio I oversaw. One of the big roles and concerns I had was in the competition area, and so I did look for ways that policy could increase competition - and that was not necessarily through antitrust enforcement, that was left to the enforcement agencies.
But there are other levers that the government has to increase competition and so I would be looking at those, and on some of those cases I collaborated with the DOJ and the FTC. Healthcare and telecommunications are good examples where there were collaborative efforts of figuring out how do we increase competition. Within telecommunications, we got more wireless spectrum at the FCC, which enabled more broadband competition.
As Deputy Assistant Attorney General at the DOJ which investigations were you involved in, and how will they play a role in your campaign and credibility?
So I do not believe I'm ethically allowed to answer such questions, unfortunately. There are limits on what I can say. What I can say is that I was there during a time when there were a number of important investigations and I helped draft the new horizontal merger guidelines at the DOJ in 2010. I was one of the people who helped draft those new guidelines, which are still used. I can say that my experience there in merger policy is something that I would bring to this role, I do believe I would be the only state attorney general to closely work on the merger guidelines and co-author an antitrust casebook. And so I'm comfortable going toe-to-toe on merger policy with the best of them, and as a state attorney general, I would be committed to continuing robust merger enforcement whether or not the states have a partner in Washington, DC.
How much of the job is explicitly related to antitrust and competition law?
The job has a broad portfolio with a range of particular sort of areas of law, and so depending on what issues come up when you might find yourself finding more time on one or the other. There is an antitrust and consumer protection section of the Colorado attorney general's office, like most attorney generals offices, but that's only one of a range of subjects the office deals with.