The copyright killer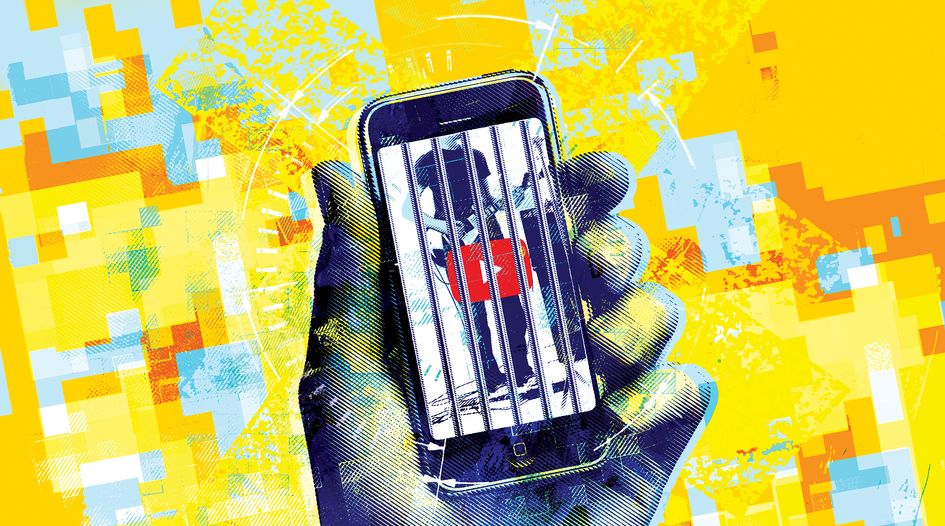 Makan Delrahim, the head of the US Department of Justice's Antitrust Division, had Lady Gaga on his mind.
Last summer, Delrahim appeared before a group of the world's top music industry executives and told them that Gaga, particularly in her Grammy ceremony rendition of Stevie Wonder's "I Wish", demonstrated the power of song – and the intellectual property behind it – to inspire and unleash artistic talent.
"Songwriters are innovators in the truest sense of the word," Delrahim told the annual meeting of the National Music Publishers' Association in June. "Like inventors whose creations obtain the protections of patent law, songwriters create valuable intellectual property, and they deserve the protection of copyright law."
Delrahim came to antitrust from the world of patent law, and the power of intellectual property has so far driven his agenda in areas beyond patents. He likes to borrow titles for his speeches from popular songs of the 1960s, '70s and '80s. Delrahim's overtures to the music industry about the copyright that gives musicians power over their art appear grounded in conservative antitrust thinking: innovation is the true driver of a competitive economy; intellectual property rights incentivise innovation; and antitrust enforcers should either support those legal protections or stay out of the way.
But so far, the Antitrust Division under Delrahim's leadership has remained silent about the company that critics see as the world's most prominent and powerful copyright infringer – Google subsidiary YouTube.
In little more than a decade, YouTube rose from a rambunctious upload-what-you-will website to a platform with the second-most users on the planet, after Facebook. That transition delivered the site a huge audience and deep market power. But the problem with how YouTube monetises content is so pronounced and engrossing, it has earned its own name: the "value gap".
Critics in the music industry have for years claimed they have no choice but to work with YouTube, even if they would rather avoid the site altogether. Its combination of user uploads, copyright loopholes and backing by Google's financial and political power means music will appear on YouTube whether or not artists and their record labels want it there. If bands want to earn anything at all from the thousands of times a song or album is streamed on the site, they have to play by YouTube's rules. The company's power dynamic creates the value gap, where streaming music means major advertising revenue for Google, but far less for artists and record labels.
"YouTube is the biggest enemy when it comes to making it impossible for independent artists to make a living," says Joe Steinhardt, a professor in Michigan State University's College of Communication Arts and Science and co-founder of Don Giovanni Records. He says YouTube is solely responsible for his label and artists having "zero control" over their creative work.
Despite Delrahim's claims that copyright paves a path to prosperity for musicians, critics of YouTube say the vast power of the website to control what artists are paid for their music has left them unable to properly enforce and monetise their intellectual property rights. Now, those critics are questioning whether the competition laws on both sides of the Atlantic might help break YouTube's grip on the industry.
Automatic for the people
At Love Garden Sounds, the Lawrence, Kansas, record store consistently named one of the best vinyl shops in the US, employees need to know the next big thing before everyone else.
That's true of discovering bands and artists; the store's racks of records are stocked with hand-picked, plastic-sealed new releases and curated classics. But record stores must also understand and anticipate the ways people listen to music. When interest in vinyl records surged over the past decade, Love Garden was perfectly placed to feed the public's new-found longing for the crackle and pop of pressed records. Now, on a mild day in mid October, long-time owner Kelly Corcoran is thinking about the next revival: compact discs.
But no matter what physical medium undergoes a revival, the majority of music listeners, in Lawrence or anywhere else, never have to walk into a shop to hear their favourite songs. That's been true for many years, as downloading music rose and ultimately fell in popularity. Now, most Americans listen to music that lives in the cloud.
Streaming music online dominates the way people hear songs and albums, and that dominance has no end in sight. According to a mid-2018 report by the Recording Industry Association of America (RIAA), three-quarters of music industry revenue now comes from streaming – both subscription and ad-based sites – while only 11% is from the purchase of CDs, vinyl records and cassette tapes.
Record store owners aside, almost everyone else in the music industry should rejoice at the numbers. The RIAA calls it a comeback, as the industry as a whole is doing better than it has in years. It finally appears to have transitioned fully from physical media and per-unit sales to a model that makes money by streaming music online, both from subscription services and free, ad-based sites.
But there's a rub: nearly all of the revenue the industry makes from streaming comes from subscription services such as Spotify and Apple Music. Streaming sites supported by advertising pay far less to copyright holders. While Nielsen has reported that these ad-based services streamed hundreds of billions of songs in the US in the first half of 2018, revenues from ad-supported, on-demand platforms make up just 10% of total streaming revenues.
The trouble is that far more people listen to music on YouTube than on any other platform.
More than 1.9 billion people are registered on YouTube as of June 2018. Its nearest rival, Spotify, has 160 million global users, while paid-subscription service Apple Music serves another 45 million people. The International Federation of the Phonographic Industry (IFPI), which represents recording industry interests, reported earlier this year that YouTube dominates the streaming music sector. Nearly half of all streaming music listeners do so on YouTube, more than all of the audio-only music services combined.
YouTube's power means the website influences every part of the music industry. If an artist's music isn't on YouTube, he or she is missing out on hundreds of millions of potential listeners. That's ill-advised for musicians whose only goal is to find an audience engaged and loyal enough to buy records and tickets to live performances. Much like brands' relationship to Amazon, if you're a band and you're not on YouTube, you're not really anywhere.
For the recording industry, YouTube's power hurts on multiple fronts. Although the company does have a system in place to flag copyright violations, all sides say it is imperfect, and record labels are often left to police the site for infringing user uploads. The process is burdensome and expensive, particularly for smaller labels that already struggle to compete in a concentrated industry.
Unable to rely on YouTube's complaint-based system, most labels agree to attach ads to their music and accept the pittance YouTube pays artists per stream. According to 2017 figures released by data journalists Information is Beautiful, YouTube offers artists the least of the on-demand services surveyed: $0.0006 per stream to unsigned artists, and a fraction more to those with a record deal. To earn the equivalent of the US federal minimum wage for a month from YouTube, artists would need their music to be streamed 2.4 million times. (Pandora, a streaming radio website and app, pays less by some measures.) Meanwhile, a study by GoDigital Media Group showed that YouTube paid about 75% less than Spotify's free, ad-supported music service, and 500% less than subscription service Spotify.
In an August 2017 posting on YouTube's official blog, Lyor Cohen, global head of music, defended the rates, and claimed it paid out at "$3 per 1,000 streams in the US". But the industry remains unconvinced YouTube pays well. "Even if you are monetising on YouTube, you're making much less than on even the free service on Spotify," says Richard Burgess, the head of the American Association of Independent Music. With other streaming services, artists and labels can threaten to withhold all or parts of their catalogue – but not with YouTube, Burgess says. "If you don't sign a licence with them, your stuff will be up there anyway," he says. It puts the industry's fragile financial recovery at risk.
YouTube's unavoidability means that rather than suffering from those low payments – missing out on music for which its rivals are willing to pay more – the company lays out less than Spotify and Apple Music and drives down the licensing terms they offer artists, critics say. It's a display of buyer power through multiple means.
How did we get here, where the world's dominant music streaming platform, owned by one of the wealthiest and most powerful companies on earth, pays the music industry – an absolutely critical input – fractions of what other services pay?
It starts with a bratty video site Google couldn't resist.
This side of the law
In October 2006, when Google struck a deal to buy YouTube for $1.65 billion just 20 months after co-founders Chad Hurley, Steve Chen and Jawed Karim launched the streaming video service, the fledgling company's relationship with the music industry was already controversial.
Google saw the freewheeling site as both a gold mine for Google's online advertising business and as a pit of copyright violations that could expose the company to all kinds of legal problems. Indeed, Hurley and Chen only agreed to an acquisition paid for with shares and no cash after Google assured them it would help find a solution to its persistent copyright problems – some way to police users who uploaded videos and music they didn't own.
Copyright violations have dogged YouTube since its beginnings. Content mainly comes from people who upload music and videos to the site through their personal accounts, and some Google investors looked at YouTube and instead saw Napster, the peer-to-peer file-sharing service that was perhaps most influential in thrusting the music industry into the internet age. The highly profitable company was liquidated following a court-ordered shutdown after losing a copyright lawsuit brought by a music industry association. The labels saw YouTube as a possible next front in their war against copyright violators. Just weeks before the Google acquisition, Universal Music chief executive Doug Morris called YouTube a "copyright infringer" and claimed it owed record companies tens of millions in royalties.
Source: RIAA
Google shareholders weren't willing to make a $1.6 billion bet on a company that might get sued out of existence, and the stated dedication to helping YouTube craft a technological solution to its copyright problems assuaged some of those fears.
YouTube also benefited from a then decade-old US statute that governed how information was shared and policed around the internet. The Digital Millennium Copyright Act (DMCA), signed into law by President Clinton in 1998, provided complete immunity to internet service providers and platforms from copyright claims when their users uploaded or shared infringing material.
Under the law's safe-harbour provisions, services such as YouTube aren't immediately liable when a user independently uploads copyright-protected materials to the websites. But the law does put the onus on YouTube and other user-driven content sites to remove copyright-infringing material as soon as they know about it, or face legal consequences themselves.
This is very different from asking the platforms to prevent copyright violations. If a user uploads content he or she doesn't own, it can legally stay on the site until someone alerts YouTube about it. If the same protected music or video reappears seconds after YouTube removes it, the site is not liable until it is notified of the recurrence. Even YouTube has admitted that the protections from copyright liability in the DMCA have been crucial to its success. "We definitely depend on the safe-harbour provisions," former YouTube spokesman Ricardo Reyes told tech magazine 5 a decade ago, on the 10th anniversary of the DMCA's passage.
Observers widely praised the law in those early days of streaming music and video. The same 5 article said that, were it not for the passage of the DMCA and the protection it provided, the interactive sites that led the Web 2.0 boom – the participatory and social web of blogs and Facebook – likely never would have materialised.
But as YouTube solidified its ubiquitous presence in streaming video and music, media companies scorned the law and the protection YouTube believed it offered. A year after the acquisition by Google, one of the country's largest television content providers sued YouTube. Viacom claimed that the website intentionally profited on the back of copyrighted material, violating the letter and spirit of the DMCA.
In court filings, lawyers for YouTube argued that the law was necessary to assure platforms that they wouldn't be crushed by lawsuits for the actions of their users. Without this "legal predictability", the company argued, innovation and the industry as a whole would suffer, perhaps irrevocably.
Major media companies leapt into the case, backing Viacom's position that YouTube was abusing the safe harbour the DMCA provided to underpay for content that appeared on the site. In a brief to the court, Warner, Disney, NBC Universal and others said YouTube and its supporters "erroneously cast the DMCA as a broad statute providing Internet businesses with expansive immunity from copyright liability" contrary to Congress's intent.
"A defendant that knowingly facilitates use of its site as a haven for infringing content, especially one that makes affirmative decisions to encourage infringing content to be uploaded to and viewed on its website for its own financial benefit, is not partaking in the type of activity" covered by the safe harbour, the media companies said.
A New York federal judge granted YouTube a summary judgment against Viacom's lawsuit. Generally understanding that a site's users upload infringing videos and songs is not the same as having direct, actionable knowledge, Judge Louis Stanton held. "To let knowledge of a generalised practice of infringement in the industry, or of a proclivity of users to post infringing materials, impose responsibility on service providers to discover which of their users' postings infringe a copyright would contravene the structure and operation of the DMCA," he wrote.
YouTube's business model was safe. So long as it removed copyrighted content when the owner asked it to do so, the company was clear of any responsibility. Indeed, as Judge Stanton pointed out, the DMCA was working exactly as intended.
Into the gap
One of the first times "value gap" appeared in print in reference to YouTube was in April 2015, when the IFPI published its year-in-review digital music report on the state of the music industry. The report announced that online streaming sites had become the primary source of revenue for artists and record labels.
While musicians and labels saw increasing revenue from streaming, the IFPI pointed to a long-simmering problem: YouTube's combination of user-uploaded content, safe-harbour protections and considerable size gave it the power to vastly undervalue the music that appeared on its site, all while collecting ever-increasing profits from advertisements placed on those videos.
The April 2015 report showed that industry revenue from subscription services such as Spotify had topped $1.6 billion the prior year, from around 41 million subscribers and more than 100 million "freemium" users. Meanwhile, YouTube returned around $600 million to the industry, despite having more than 1 billion users and overwhelming popularity as a music streaming site. The IFPI report blamed the value gap on the safe-harbour law.
"This is a fundamental flaw in our industry's landscape which sees digital platforms such as DailyMotion and YouTube taking advantage of exemptions from copyright laws that simply should not apply to them," IFPI chief executive Frances Moore said in the report.
In a statement to 5 magazine in November, a Google spokesperson claimed the company had paid the music industry €5 billion in advertising revenue, and that YouTube's subscription service paid artists the same per-stream rate as Spotify's subscriber-only service.
Frustration over YouTube had long been brewing on both sides of the Atlantic, particularly among independent music groups representing thousands of desperate labels and artists who had little power to bargain with YouTube. Those groups saw that YouTube was an unavoidable trading partner for artists and labels, and YouTube's ability to dictate terms smacked of dominance.
Helen Smith, the head of European independent music association Impala, says her members felt powerless when YouTube came to them with non-negotiable template contracts to license their music for YouTube's proposed subscription music service. Impala claimed that YouTube's negotiating tactics included threats to remove artists' own uploads of their music – which at least generated ad revenue for musicians – unless they agreed to license their music, on YouTube's terms, to its subscription site.
By the summer of 2014, Smith and Impala had filed a formal complaint with the European Commission's antitrust watchdog, claiming that YouTube had abused its dominance as both a gatekeeper of music and unavoidable partner to smaller record labels. The organisation argued that the terms YouTube was able to extract from labels and artists undercut its rivals, who were not able to use the threat of persistent copyright violations to win more favourable terms.
"The concern is that YouTube's dominance puts it in a unique position to dictate terms," the organisation said in an executive summary of the 2014 submission. YouTube had threatened to restrict artist access to its Content ID system, leaving artists and their representatives unable to challenge user-uploaded videos that violated copyright, Impala claimed.
"They benefit from what [competition] authorities call unilateral effects," Smith says in an interview with GCR. "It's virtually impossible for any competitor to catch up." Spotify and other services play ball, Smith says, negotiating with labels because, if they don't, they can't get the music for their customers. "The others still have to be fair in their dealings with the market. The position of Google across all markets is unbeatable."
The European Commission took Impala's complaint seriously. In June 2014, then-EU competition commissioner Joaquín Almunia mentioned the case as one of several the watchdog had launched examining Google's market power. In July that year, YouTube backtracked on its plan to bar independent labels that didn't sign up to its licensing terms. And just a few months later, Impala retracted the complaint for other reasons, Smith says. First, much of the independent music industry agreed to participate in Merlin, an organisation often called the "fourth major" record label, which bargains with YouTube and other streaming services on behalf of its members. Second, Europe began seriously discussing legislation that would effectively curb YouTube's ability to avoid copyright liability and underpay for its music licences.
Source: RIAA
By September 2016, the EU had put a draft framework in place that would overhaul copyright protections in the European bloc, making music-sharing platforms such as YouTube responsible if copyrighted materials are published to their sites without permission. If YouTube wanted to include streaming music on its site, it would have to pay to license it just like Apple and Spotify. In Europe, safe harbour would come with strict rules, and penalties for breaking them.
As momentum towards a new copyright regime in Europe picked up, so too did Google's lobbying efforts. According to UK Music, a recording industry advocacy group, Google spent at least €31 million lobbying against the EU Copyright Directive, either directly or through third-party organisations aligned with the company's interests. Google and YouTube took particular interest in article 13 of the directive, which would expose websites to liability when an unlicensed video, song or text is uploaded.
YouTube argued that article 13's rigid approach to copyright would "drastically limit the content that one can upload to the platform in Europe". The company said that if article 13 were implemented, it would force YouTube users to prove that they owned the copyright to whatever they were uploading. This is often complicated by multiple copyright holders and other factors. YouTube also argued that the legislation would cost tens of thousands of jobs around Europe, hitting a soft spot for EU lawmakers.
That effort to derail the proposed law failed, and when it did, Google changed tactics. Rather than pushing to kill regulation, company executives embraced the filtering system at the heart of article 13 – because it already owned such a system. Google believed it could extend YouTube's Content ID system to other parts of its business. The Electronic Frontier Foundation (EFF) in a blog post argued that article 13 could provide exactly the kind of regulatory capture Google and other monopolists would benefit from to further shut out rivals.
Background photo by Christian Wiediger on Unsplash
"Like every monopolist, Google's first preference was always going to be no regulation; but their second preference was also always going to be lots of regulation, provided that they could afford the regulatory costs and no one who might challenge them could," the California-based digital rights group wrote.
Article 13 has been popular with artists and those who represent them, especially in the US, where a legal safe harbour still insulates YouTube from copyright punishment. But the EFF said the regulation fails to actually increase competition, diversify the market and put more money in artists' pockets.
"If we want Google to pay creators more, let's just make Google pay creators more and skip the censorware," the foundation wrote. But claiming that article 13 would enshrine Google's monopoly power could be a back-door way to kill a regulation Google has opposed from the beginning.
But a senior Google lawyer told a conference in 2017 that safe harbours helped consumers and competition. Munesh Mahtani, the company's senior competition counsel, said limits on copyright law – such as allowances for fair use and other safe harbours – have led to expanded output, creativity and other consumer benefits typically pegged to competitive markets. "Innovation [online] is taking place because of those limitations rather than in spite of them. Through a competition law lens, that's very good," he said.
Fight the power
Observers in the music industry believe the solutions to the value-gap problem are myriad. They begin with the most obvious one: amend the legal safe harbour for YouTube – and every website that allows user-uploaded content – so that it effectively protects artists' rights.
"I'm very supportive of that, because it actually starts to give people control of their content," says Joe Steinhardt of Don Giovanni Records. In the music industry, if artists and labels could threaten to withhold songs and albums from the site, they would have new-found power in negotiations. That power could help close the value gap and force YouTube to pay for their art – maybe not as much as the artists would like, but at least something closer to what Spotify and Apple Music pay.
Closing the value gap isn't the only goal. For the independent music industry, YouTube's size and influence poses problems that run parallel to copyright issues. Although Google clearly has limited sway in Europe to kill investigations or regulations that run counter to its interests, the company is seen differently in the US, and critics believe it has influence in the halls of Congress.
In 2017, Google spent $18 million lobbying Washington, more than any other corporation in America – including fellow embattled tech giants Amazon and Facebook. Records show that at least part of its lobbying efforts in 2018 were dedicated to copyright issues, including the tens of thousands it paid to Crossroads Strategies to lobby members of Congress. (It also lobbied extensively on antitrust issues.) Any effort to tame YouTube, then, must also address Google's power, both in the market and in government.
"It's a symptom", Steinhardt says of YouTube's alleged abuse of its copyright safe harbour, "of how Google thinks about the world, and how the government thinks about Google."
Kevin Erickson takes a broader view of antitrust issues in the music industry. As head of the Future of Music Coalition, he's interested in ensuring that the whole industry works for musicians. That includes how artists publish, perform and broadcast their music. He looks at the industry and sees market power everywhere: in a concentrated recording sector, a duopoly in big-money tours and festivals, a distribution system dominated by a handful of companies and a music streaming market increasingly controlled by just four companies – YouTube, Spotify, Amazon and Apple Music.
Is antitrust enforcement the answer? Erickson thinks so. It would have been helpful in the past, he says – to stop Live Nation from merging with Ticketmaster, for example, or to slow the consolidation of the recording industry. And he thinks trustbusters should be wary of satellite radio monopolist SiriusXM's attempt to buy Pandora, the streaming music service. But if antitrust enforcers want to help artists and labels now, they can do it.
At the moment, YouTube's market power "is a too-big-to-fail problem". YouTube is so important to the industry that even though musicians and labels have an adversarial relationship with the company, their reliance on its reach and revenue means they won't sue the company. Trustbusters could. "Separating YouTube from [Google parent] Alphabet, and crucially from Alphabet's domination of ad tech across multiple markets and platforms, would address the leveraging piece in a really powerful way," Erickson says.
If Google's power is a problem, current legal thinking suggests there's scant chance the antitrust agencies will consider fixing it. The rents Google and YouTube collect do not come from consumers; their services are free, and under the prevailing consumer welfare standard, a price point of zero means the antitrust agencies are unlikely to enforce against their behaviour on the other side of the market. In the US, last summer's Supreme Court decision in the 5 case makes it even more unlikely that the DOJ or Federal Trade Commission (FTC) would pursue an antitrust case without a clear showing of harm to consumers. The FTC declined to comment, and the DOJ did not respond to a request to comment for this story.
And as the list of realistic remedies to YouTube's power over music streaming gets shorter, so too does the list of leverage points artists and labels have to convince YouTube to protect copyrights and pay artists more. YouTube's too-big-to-fail problem is one created by market power, and taking on the company feels too risky, especially for individual artists and small labels who simply cannot afford to fight.
Music streaming companies compete in ways other than price, of course, including on the quality and diversity of music offered on any given site. If YouTube's power to pay next to nothing for its content is driving some suppliers out of business, then perhaps it is damaging competition in the broader music industry, as only the biggest labels and artists earn enough to survive. But good luck proving that: as many thousands of bands have shown, the barriers to entry in the music industry are extraordinarily low.
It's not just the small labels that feel outmatched. In spring 2017, negotiators from Warner Music Group began talks with YouTube over a licence to Warner's extensive catalogue. Warner is one of the "big three" major labels that dominate recorded music. Its artist roster holds superstars such as Ed Sheeran, Linkin Park, Madonna and Coldplay, and the back catalogue of The Rolling Stones, Aretha Franklin and more. For YouTube, losing access to such a deep and important collection of music would seem unthinkable.
The two sides struck a deal in early May 2017, but officials from Warner were less than enthusiastic. Despite Warner's compelling stable of artists, the company's chief executive Stephen Cooper suggested that the company got the best deal it could from YouTube under very bad bargaining conditions. The problem, as Cooper described in an internal memo first reported by music magazine 5, was that no matter what, YouTube would stream the music of Warner artists. The only negotiating point was how much Warner wanted to earn from YouTube streams: nothing, if the streams were of copyright-infringing content, versus whatever YouTube was willing to pay.
"There's no getting around the fact that, even if YouTube doesn't have licences, our music will still be available but not monetised at all," Cooper wrote. "Under those circumstances, there can be no free-market 'willing buyer, willing seller' negotiation."
Some observers, like those from the GoDigital Media Group, have suggested that the only way to balance out YouTube's power to outmuscle even an individual major label is to work together: labels agreeing on base licensing rates for their catalogues and offering those rates to all streaming services, subscription or ad-supported. But any collective negotiation that is not blessed by competition authorities has obvious antitrust implications.
Potential counterweights to YouTube's bargaining power include performing rights organisations who negotiate on behalf of songwriters and performers. Both the American Society of Composers, Authors and Publishers (ASCAP) and Broadcast Music Inc operate under long-standing settlements with the DOJ's Antitrust Division that oblige them to license members' music, though the agency is reviewing the consent decrees. Both organisations have deals in place with YouTube to deliver royalty payments to their members. In 2017, ASCAP and YouTube announced they had negotiated the first major voluntary long-term licensing agreements in YouTube's history – and one of the only such deals for ASCAP.
While these performance rights royalties paid to artists might be something, critics still question their fairness. Some estimate the ASCAP deal will pay around $0.00015 per stream – less than the $0.006 that Spotify says its ad-based service pays, and far less than the per-stream payment from its premium subscription service. Moreover, ASCAP only pays songwriter royalties, which are merely one part of the music copyright formula. Performance and recording royalties are still left to the labels and artists, and YouTube's power still reigns.
YouTube pays so little in all royalties – to artists, labels or otherwise – because it has the power and legal protection to do so. A 2018 economic analysis commissioned by the International Confederation of Societies of Authors and Composers called that value gap a "fundamental market flaw". The power of YouTube, backed by safe-harbour provisions, distorted the digital music market as a whole, the report claimed.
Those in the music industry see changes to the safe harbour as the most basic step. After all, a law intended to protect the functioning of the Web 2.0 has instead shielded one of the world's most powerful and entrenched monopolists from the full rigours of competition. "YouTube is negotiating with a pretty big shotgun in its hand," says Richard Burgess from the American Association of Independent Music. "It distorts the playing field in an unhealthy way. It's not a fair, competitive marketplace."
Addressing the law might very well mean addressing the power of Google itself – something US antitrust enforcers have considered in the past but have yet to do. Maybe the time is coming, observers say.
"I think they're improving quite a lot," Erickson says of the odds that antitrust enforcers take action that would help the industry. "It seems less likely to happen as a YouTube-specific action, but more as part of an examination of Alphabet generally."
Erickson dismisses arguments that any action against YouTube would ultimately harm the music industry; the industry would be better off if YouTube were a better partner, and if artists and labels had more options when YouTube's model didn't work for them. He sees good momentum in Congress, from Democrats and Republicans alike, to take some action against Google. Erickson's only concern is that Congress will pass a privacy bill and stop there. More should be done, he says.
Steinhardt from Don Giovanni Records puts it another way.
"Google money and influence is what's keeping the safe harbour open," he says. "Let's start with breaking up Google. That's a start."