Takeshima: Agencies must promote competition law around the world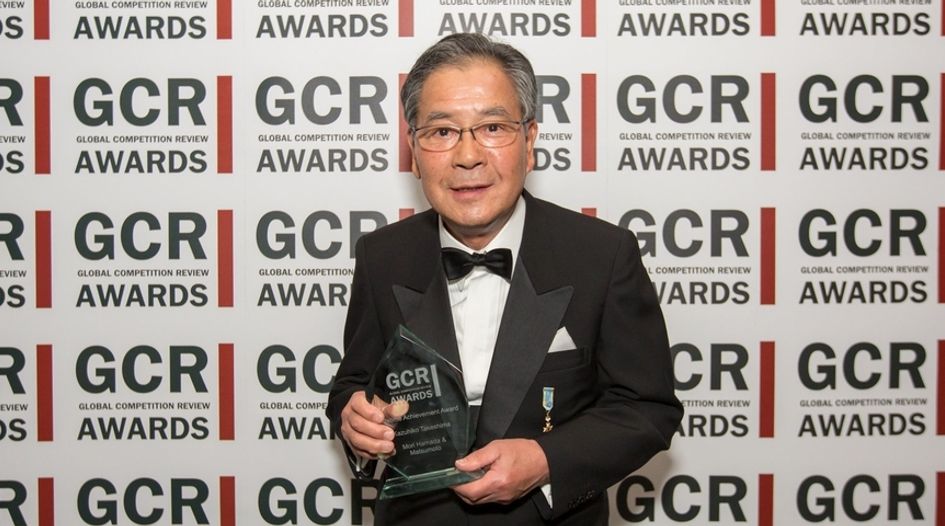 Kazuhiko Takeshima, the former chairman of Japan's Fair Trade Commission and counsel at Mori Hamada & Matsumoto, accepted this year's Lifetime Achievement Award at the GCR Awards ceremony last week. In his remarks, reproduced below, Takeshima says that just as antitrust officials around the world supported his efforts to reform Japanese competition law, experienced agencies must now support new enforcers as they strive to create a competition culture in their jurisdictions.
***
It is my great pleasure and honour to accept this prestigious Lifetime Achievement Award. I would like to extend my deep appreciation to every person here, especially those involved in the nomination process.
Many of you may be surprised to find that this year's award winner is an Asian. But I think you will all agree that this shows how borderless the nature of competition law is. I hope that more people from different countries will be honoured with this award in the future.
I was only a layperson in competition law until the summer of 2002, when I was appointed chairman of the Japan Fair Trade Commission. Actually, I hesitate to accept this coveted award for my humble services – but I would certainly regret it if the award were withdrawn.
I was chairman of the JFTC for two successive terms – that is, for 10 years, which ended two-and-a-half years ago. They were a very strenuous but meaningful 10 years.
Japan's Antimonopoly Act was created in 1947 during the Allied Powers' Occupation and has since been in effect for nearly 70 years. However, for a variety of reasons, the Act was not rigorously enforced for many of those years. Japan had long been ridiculed as "a watchdog of the market that never barks" and its collaboration with foreign authorities at the time did not go beyond a general exchange of views.
When I assumed chairmanship of the JFTC, the first item on my agenda was to strengthen Japan's Antimonopoly Act as a deterrent and to make the JFTC a real enforcement power. I hoped to transform the agency into an organisation comparable to those of other developed countries.
I was envious of the US competition authorities in that the US Congress has a better understanding of, and is interested in, competition law. At that time, there were hardly any political or industrial groups in Japan that supported the JFTC. During my tenure, the JFTC achieved two major amendments of the law, in 2005 and 2009. In particular, substantial effort was required to amend Japan's Antimonopoly Act in 2005 because it involved an increase in surcharge rates from 6 per cent to 10 per cent, and we introduced a leniency programme. I can't tell you how happy I was when I received a report that the 2005 amendment had passed the Japanese Diet.
The second item on my agenda was to consolidate our collaboration with foreign competition authorities. There are two types of collaboration: One is bilateral collaboration, such as between the US and Japan or the EU and Japan, and the other is multilateral collaboration, such as the OECD and International Competition Network.
In 2002 when I assumed chairmanship of the JFTC, the ICN was launched. In 2007, I was appointed vice-chair of the organisation.
While in office, I focused on meeting as many executive offices of foreign competition authorities in person as possible, because I thought that was the fastest way to consolidated collaboration. Thanks to these people who shared the same views, we were able to forge bonds of mutual trust and friendship.
Exchanges of views with my friends in other competition authorities and non-governmental organisations encouraged me and inspired me with the confidence that my goals were not wrong.
Let me take this opportunity to express my deepest appreciation to all the people, including those at the US Department of Justice, the US Federal Trade Commission and DG Comp at the European Commission.
Our efforts, including the efforts of the JFTC, have borne fruit in the successful handling of large-scale international cartels and the reviews of cross-border merger cases, as exemplified in the recent detection of a cartel in the auto parts sector.
To allow antitrust laws to truly contribute to economic development and the enhancement of consumer interests in each country, we must continue to promote and maintain fair and free competition. Ongoing efforts are required of people involved in competition law.
Moreover, since corporate globalisation is accelerating, competition laws must be enforced properly in all countries. To that end, we must provide generous support to young agencies. I believe we can play an important role in this as well.
In closing, I want to share this award with all the JFTC members and the staff within the general secretariat who worked with me.
Last but not least, I extend my greatest appreciation to the people of Global Competition Review. Please accept my best wishes for your further development.